Predator
Commercial divers' best choice, Special Corps Mask of choice, a mask that can withstand the toughest and most frequent use possible.
Key Features
_________________________________________________________________
Regulator cover in marine-use Anodized Anticorodal®, light weight

resistant, durable aluminum.

Reg adjustment knob, internal screw, in AISI 316 stainless steel.

AISI 316 stainless steel frame and buckles.

Sensitive reg adjustment knob, sturdy and easy to grab even 

wearing thick gloves.

Glacier strap: HNBR rubber made head strap, designed to maintain 

high elasticity when exposed to very low temperatures.

1030 g total mask weight (2.28 lb.).

Heavily reduced positive buoyancy, 232 g (0.5 lb.).
Cold water certified, balanced, on demand, integrated regulator. Polycarbonate visor (siloxane double coated for scratch resistance). Directional exhaust valve (4 positions). Dive / pre dive switch.
Limited LIFETIME warranty!
SAV (Surface Air Valve) included.
Cannot mount Extender Frame and Kit unless clamping band is switched to nylon: ask when ordering for quote.
Additional information
| | |
| --- | --- |
| size | S/M, M/L |
| color | Black/Gold/Steel |
| sku | Black S/M 33368, Black M/L 33369 |
Description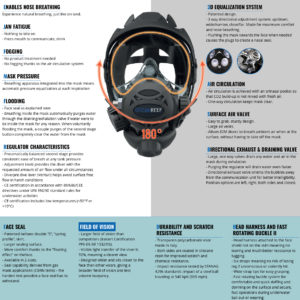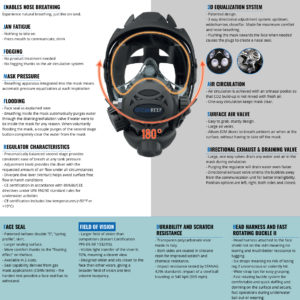 WHY DIVE AN IDM? CHARACTERISTICS AND BREAKDOWN OF BASIC FEATURES.
After you read the above, you might also want to check out:
Apertometer: competitor comparison with our field of view.
Visor treating: the importance of having scratch resistance inside and outside means that, while an outside scratch on underwater equipment is a minor problem (the water will fill the scratch and you won't be able to tell it's there), an inner scratch will be very visible, also once underwater. Thus, OCEAN REEF IDMs, the only Full Face Masks with coating on the market, highly reduce the possibility you will ruin and need to swap your visor.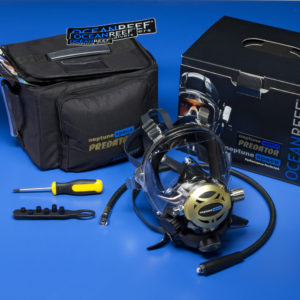 YOU GET PLENTY WITH YOUR SPACE EXTENDER
It comes with
A padded bag to protect and carry your IDM
Warranty Registration – Limited Lifetime Warranty with these babies!
The full Extender Kit (frame + accessories – frame is already mounted).
Equalisation plugs set. 3 sizes.
Screwdriver.
Standard Hose.
Stickers to show off you're an OCEAN REEF addicted.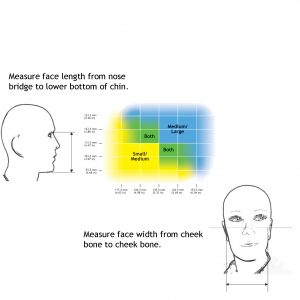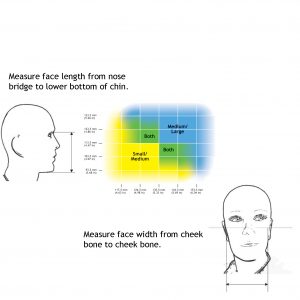 WHAT IS MY IDM PERFECT FIT?
The Neptune Space is available in two sizes, Small/Medium and Medium/Large.The sizing and measuring system were designed in accordance with the official measuring procedure used in the Los Alamos Scientific Laboratory Charts at the SBCCOM Mask Fit Facility-Aberdeen Proving Ground (Maryland, USA). Before purchasing a mask, the customer may use the calliper to take two simple face measurements. Using the Full Face Mask Size Recommendation Chart, he or she can evaluate the size category into which the measurements fall. There are three different size categories on the chart: Small/Medium, Both, & Medium/Large. If the measurements fall within the both category, then the diver should technically be able to wear either full face mask (M/L or S/M), and in that case should try on a mask to select the best fit. Please note that the chart boundaries fade. The fading areas represent less common face measurements. It is very likely that a mask will still fit comfortably even if measurements are located in these fading areas.If needed, OCEAN REEF has available to purchase a measuring kit.

GOT QUESTIONS?
Check out the FAQ section, the Training and Support videos for some answers to questions that might come to your mind like:
How do I equalise an IDM?
Why IDM and not simply FFM?
Does it fog?
How do i clear it from water?
What if it leaks?
OA situation?