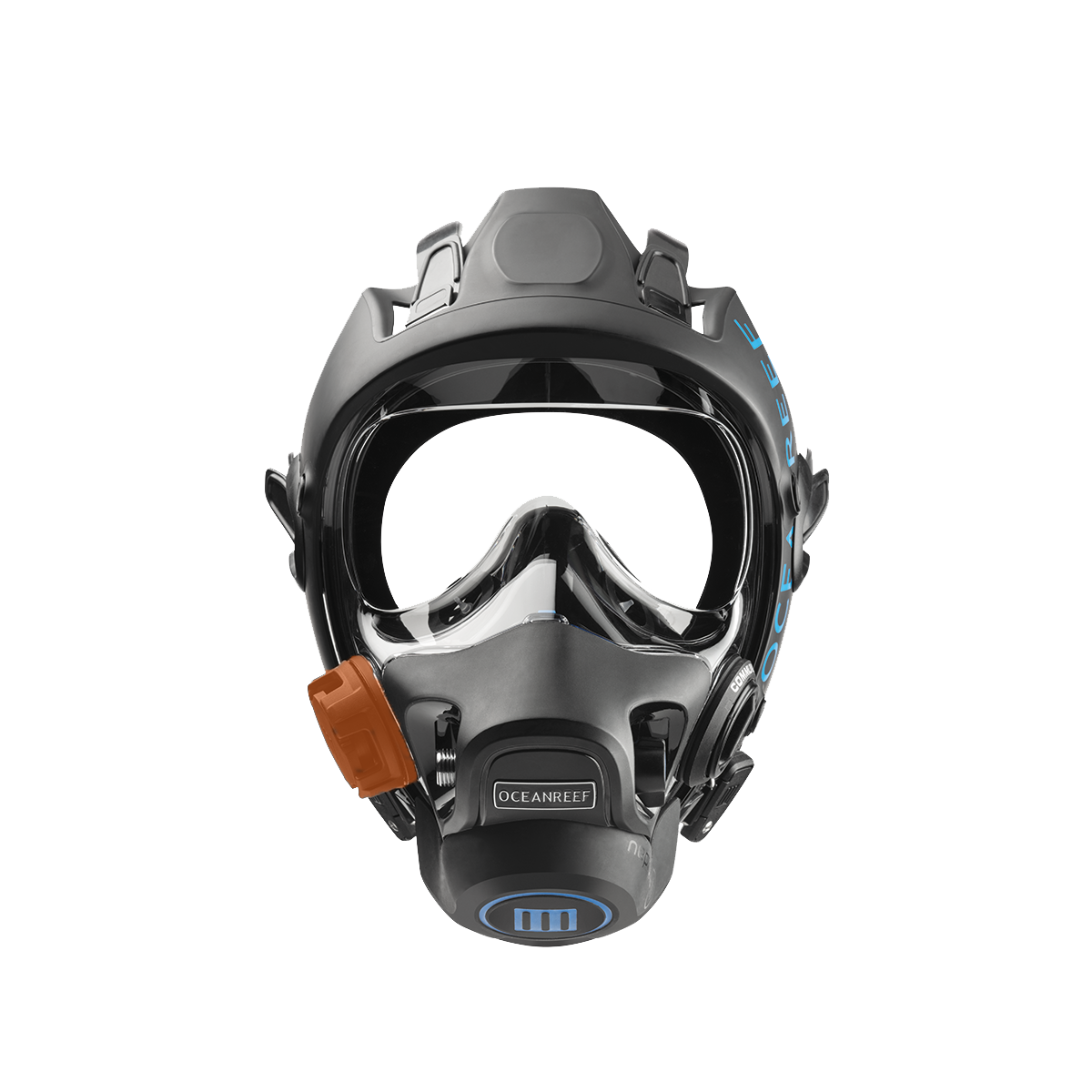 SURFACE AIR VALVE
Easy to grab, sturdy design.
Large air vents.
Allows IDM divers to breath ambient air when at the surface, without having to take off the mask.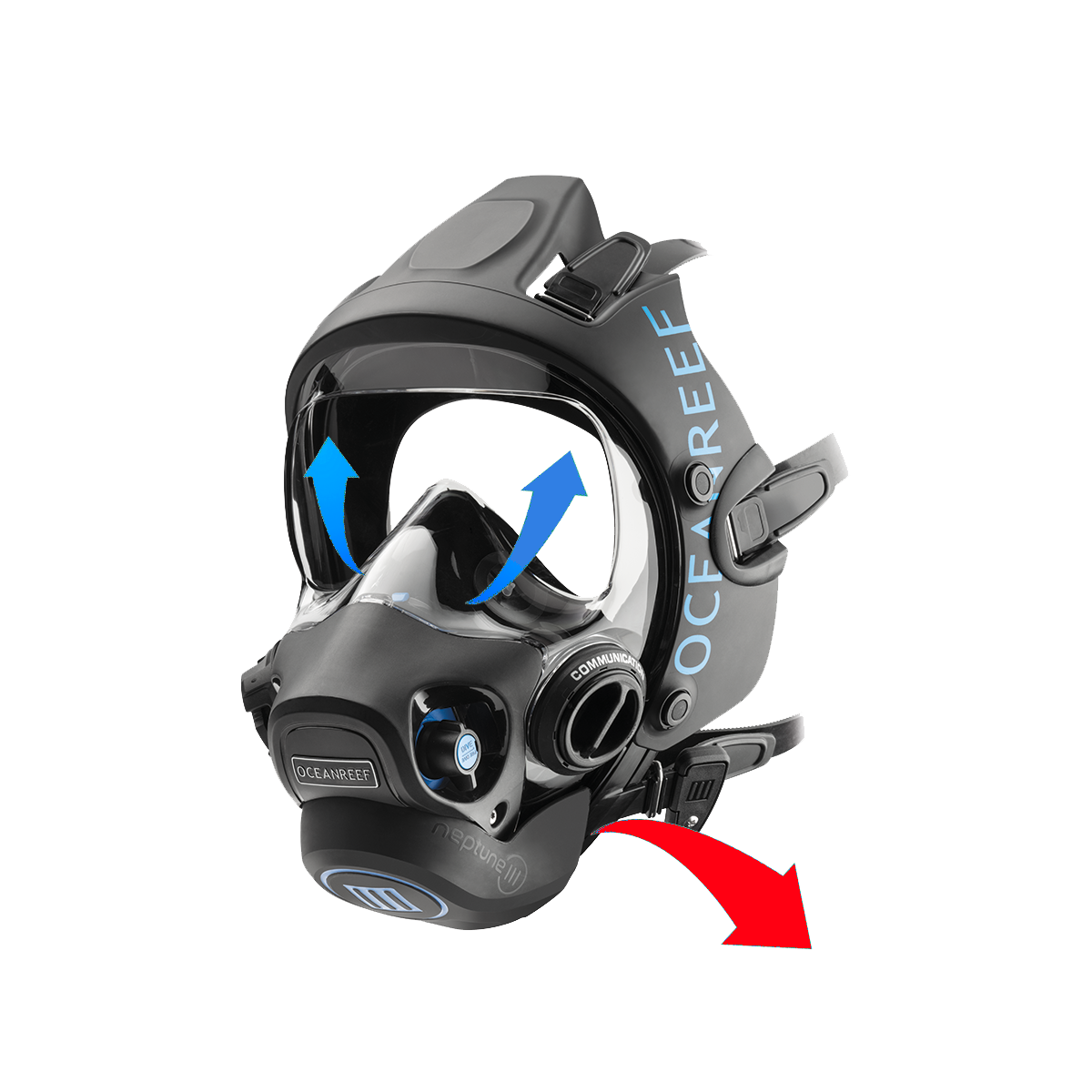 AIR CIRCULATION
Air circulation is achieved with an orinasal pocket so that CO2 build-up is not mixed with fresh air.
One-way circulation keeps mask clear.
Integrated Diving Mask (IDM)
training videos
In order to become a real diver, you need passion, commitment, good teachers and a lot of training. Nevertheless, you might be left with some doubt! This is why OCEAN REEF has created this playlist reviewing step by step all the movements and the basic precautions needed for a completely safe dive. Videos are intended as a support to Reading the User Manual and proper training with certified professionals.
Marcelo Ogata
Canada
Marcelo (aka Bugdreamer) is an amazing underwater filmmaker and photographer. His passion for photographing small critters dates back years before his diving career, on land. Now you can see the most incredible creatures of the Ocean in his works.
Alberto Balbi
Italy
Award-winning professional photojournalist, founder of the 'Blucobalto Underwater Photo Academy', the first Underwater Image Academy in Italy and its World-famous teacher. 
He works with numerous magazines and is part of the Italian television program "Missione Relitti", about wrecks exploration.
Isabella Zandona
USA
Isabella
"Bella", is a marine biology student, Advanced and Rescue certified Scuba Diver based in the Pacific Northwest. She's had a strong passion for the ocean since she was very young. Now Bella uses her platform, divingwithbella, to share and educate others about the wonders of the ocean.
Marcin Pawełczyk
Poland
I began my diving adventure in 2010, getting my first experience as a recreational diver. The new passion turned out to be almost addiction, and over the next six years, it evolved into a lifestyle. After gaining further experience as a recreational diver, enchanted by the Baltic wrecks, I went to the dark side of the power ending the technical courses. In 2015 I set out to conquer caves and flooded mines. For many years I have also been working with other photographers as a model or a light man, especially in flooded mines, where you need to carry underwater plenty of extra lights, 5-7 big canister lights are nothing unusual. Since 2012 owner of the divers24 news website and marketing agency.
In addition to diving, photography has always interested me quite much. That's why in 2017, I started to take the camera underwater. And that's where it all began……. 
BlueNomads.Org 
Philippines
BlueNomads.Org was founded by Diego Arechaga and Ander Argote in 2016. The former IT engineers and passionate Technical Divers created this Social Enterprise to support Marine Conservation and Blue Economy through Innovation, Sonar Surveying, Satellite Analysis, Oceanographic Simulations… They dive using a unique OCEAN REEF IDMs Sidemount Tek System.
The BiG Scuba Podcast
United Kingdom
Gemma and Ian are keen divers and the hosts of The BiG Scuba Podcast.  They are both qualified Ocean Reef Full Face Mask divers and have continue to capture their journey via The BiG Scuba Podcast and social media channels.  Gemma and Ian talk to many people on the podcast that have some connection to the oceans and the ultimate conservation of our planet, including all levels of scuba divers, artists, military personnel, film makers, actors and NASA astronauts.
Guidotti's brother
France
We are two brothers (Vincent and Guillaume Guidotti) from the south of France, hydrographic surveyors by profession and underwater filmmakers by passion. Divers from a young age, we have combined our skills, our ambitions and our inspiration in a great project consisting in doing underwater livestreams. Those livestreams will be our way to share our diving experiences and the beauty of the underwater life.
Anesti Vega
Florida
Anesti Vega is an oceanographer, explorer, and award-winning educator based in Florida and studies the oceans around the world. He also serves as a scuba instructor and expedition leader to advocate for our oceans and increase education, safety, and accessibility to scuba diving and ocean exploration.
Emilio Mancuso
Italy
Marine biologist, photographer, dive instructor: this is Emilio Mancuso, our Italian ambassador. Environmental conservationist and expert in citizen science' projects.
Song & Jan
South Korea 
This cute couple of divers is also committed in environmentalism and Ocean protection. Song is an actress, the only Korean female PADI Ambassadiver and she has been up for a decoration by the Korean Coast Guard. We love their wedding picture while hanging thier Space Extenders!
Giacomo d'Orlando
Italia
Giacomo d'Orlando is an award winning documentary photographer focused on environmental issues. His projects appeared in The Washington Post, Der Spiegel, Paris Match, El Pais, Geo France, De Volkskrant, D-La Repubblica, Mare Magazin, among others. Today his work looks at how the increasing pressures brought about by climate change are reshaping the planet and how present-day society is reacting to the new challenges that will characterize our future.
Dani Mendoza
Mexico
A real full face mask lover. Dani is the owner of Night Snorkel Cozumel Diving center. A great photographer and the best teacher you could ask for an amazing experience of diving or snorkeling in Mexico.
Bigs Eggert
Philippines
Bigs is the owner of Amun Ini Dive in Bohol Philippines, Sales & Marketing Director for Amun Ini Beach Resort and Scuba Instructor for over 20 years, where a Free OCEANREEF Full Face Mask trials is offered. "We love converting divers to a new incredible way of diving!".
Anton Pronichev
Russia
Anton is a long-term user of OCEAN REEF  products and the leader of the diving WildDucksTeam. Anton travels the world for diving explorations always with his OCEAN REEF IDMs! He is also a great underwater videographer!
 Shafraz Naeem
Maldives
Shafraz Naeem, known to everyone as Shaff, started his diving career in 1994 and as an ex-military dive instructor and a PADI instructor, he has extensive knowledge of diving all over the Maldives. He trained the Maldivian Special Forces in diving, has explored and is exploring deep cave systems and" deep reefs in the Maldives. On the 50th anniversary of the tourism and underwater industry of the Maldives he achieved a record spending 50 hours underwater!
OCEAN REEF wholeheartedly supports Shaff's initiative to raise awareness on ocean plastic pollution in the Maldives and to encourage people to adopt a plastic free, Eco sustainable lifestyle.
Vincenzo Venuto
Italy
Vincenzo Venuto with his incredible expertise and unwavering commitment to marine conservation, Venuto perfectly embodies our core values and mission to explore and protect the underwater world.
Vincenzo Venuto has dedicated his life to studying marine ecosystems and has been part of groundbreaking research expeditions to some of the world's most breathtaking dive sites. His passion for the ocean and marine life aligns seamlessly with our dedication to creating innovative and safe scuba gear.
Together, we aim to raise awareness about the importance of ocean preservation, inspire future generations of divers, and promote responsible diving practices.