NEPTUNE III + GSM MERCURY
Discover the most advanced Full Face Mask ever from OCEAN REEF.
* NOW AVAILABLE IN EMEA (Europe, Middle East and Asia)
EFFORTLESS – Completely new 2nd stage design and engineering. This FFM breaths smooth as silk.
INNOVATIVE – The 2nd stage is Integrated in the mask fully, as per our Company's philosophy, but now it can be detached quickly (Level 1 tech certification required) for never-before quick servicing and swap.
RUGGED – Signature double coated visor is renowned for its unparalleled toughness and clearness, now combined with tech PU regulator protection and silicone deflector to absorb the shocks of an intense scuba diving use.
COMFORTABLE – Premium materials, redesigned orinasal pocket descending from the experience we built upon 100s of thousands of FFSM that we made for people around the globe.
BADASS – Not our words, just the natural reaction of whom gets to look at this IDM and hold it in their hands.
PANORAMIC – We held the top spot for field of vision of any FFM before the Neptune III, now, we've increased it further!
PRACTICAL – All the great designers in the World could come together to make the most beautiful product ever, but we, divers, need products that are more than beautiful – they must be practical. Neptune III is just that.
SAFE – Physiological benefits of nose breathing are now getting more and more attention and that is one of the great "pros" of a Full Face Mask, but the Neptune III combines all benefits, plus, a dive pre-dive switch, just to make sure that you have all the control you want over your 2nd stage.
FUNCTIONAL – This product can be used in almost any condition, we built it that way. For example, now the Neptune III is the first FFM that can be doffed with one hand.
COMPLETE – Certifying this product we decided that we wanted to guarantee OCEAN REEF divers to be able to rely on a certified set, not just a 2nd stage and first stage. Neptune III can be purchased with it's first stage, pressure gauge, quick connection hose, quick connection octopus and back-up conventional mask.
ADAPTABLE – Neptune III is sold with the Neptune Backpack, a tool designed by divers, for divers.
Limited LIFETIME warranty!
GSM MERCURY
The best choice for professional underwater wireless communication.
Key Features:
It's foldable inside the mask. Now you don't need to assemble the comm unit and take it off the mask. Simply fold it close and pack the IDM.
Brand new rechargeable, changeable battery with an autonomy of approximately 30 hours. No need to purchase disposable batteries to throw away once they are done. No need to purchase batteries before a dive trip. Recharge with a standard micro USB cable from any power source you want.
Digital as the first ever unit we introduced in the market – the DC. This one adds clearer communication, with a higher volume AND 2 earphones for a stereo-like experience.
Double channel unit for separate teams/conversations, depending on the surrounding environment conditions, it exceeds a range of 800ft /250 meters.
DAT (Digital Activation Transmission) – hands-free mode.
Compatible with all prior OCEAN REEF units and competitor units on same frequency.
Easy and solid new PTT button. Also includes the D-mic 2.0 which is now incredibly simple to swap out if needed. Button module doesn't create entanglement and can be operated via a yellow flat, sturdy button and easy lever. As intuitive as you would want it. New Blue Mic on all 2020 units replaces the new D-Mic and increases the clarity of communication significantly.
Voice menu that is clear and immediate to learn, matches perfectly the simplicity of the buttons.
3 level volume.
Additional information
size

S/M; M/L

color

Black/White/Blue

sku

S/M Black OR025200
M/L Black OR025201
S/M White OR025202
M/L White OR025203
S/M Blue OR025201
M/L Blue OR025205

WARNING

For California Residents: this product can expose you to chemicals including BPA, which is known to the State of California to cause cancer, and Phtalates, which are known to the State of California to cause birth defects or other reproductive harm. For more information go to http://www.P65Warnings.ca.gov.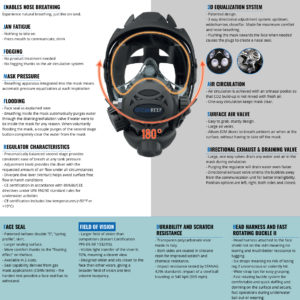 WHY DIVE AN IDM? CHARACTERISTICS AND BREAKDOWN OF BASIC FEATURES.
After you read the above, you might also want to check out:
Apertometer: competitor comparison with our field of view.
Visor treating: the importance of having scratch resistance inside and outside means that, while an outside scratch on underwater equipment is a minor problem (the water will fill the scratch and you won't be able to tell it's there), an inner scratch will be very visible, also once underwater. Thus, OCEAN REEF IDMs, the only Full Face Masks with coating on the market, highly reduce the possibility you will ruin and need to swap your visor.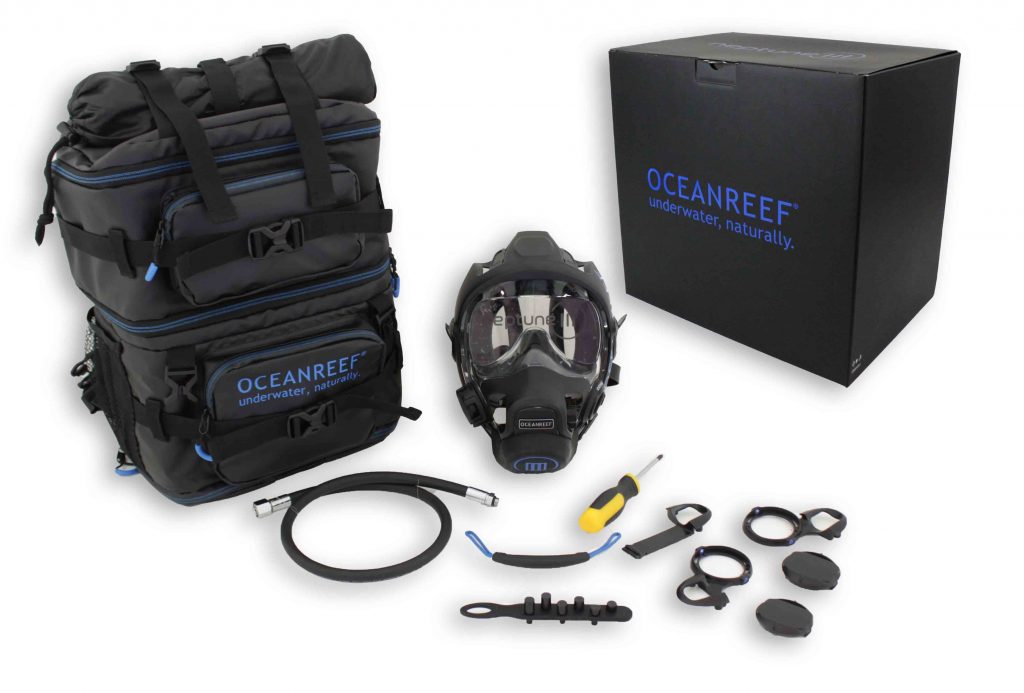 ACCESSORIES
It comes with
Neptune III Backpack designed to safely carry your IDM and with thousand features
Doffing handle.
Warranty Registration - Limited Lifetime Warranty with these babies!
The full Extender Kit (frame + accessories - frame is already mounted).
Equalisation plugs set. 3 sizes.
Screwdriver.
Standard Hose.
Stickers to show off you're an OCEAN REEF addicted.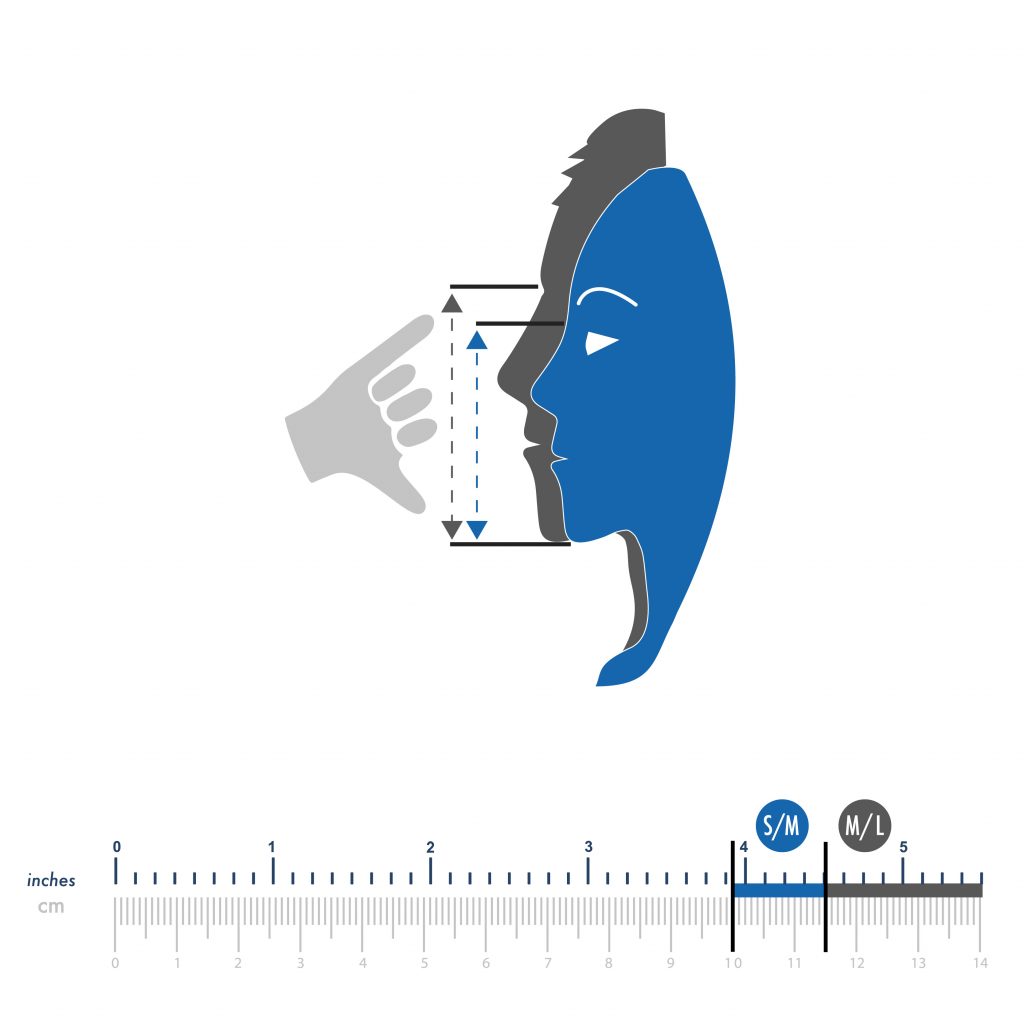 WHAT IS MY IDM PERFECT FIT?
The Neptune Space is available in two sizes, Small/Medium and Medium/Large.The sizing and measuring system were designed in accordance with the official measuring procedure used in the Los Alamos Scientific Laboratory Charts at the SBCCOM Mask Fit Facility-Aberdeen Proving Ground (Maryland, USA). Before purchasing a mask, the customer may use the calliper to take two simple face measurements. Using the Full Face Mask Size Recommendation Chart, he or she can evaluate the size category into which the measurements fall. There are three different size categories on the chart: Small/Medium, Both, & Medium/Large. If the measurements fall within the both category, then the diver should technically be able to wear either full face mask (M/L or S/M), and in that case should try on a mask to select the best fit. Please note that the chart boundaries fade. The fading areas represent less common face measurements. It is very likely that a mask will still fit comfortably even if measurements are located in these fading areas.If needed, OCEAN REEF has available to purchase a measuring kit.
GOT QUESTIONS?
Check out the FAQ section, the Training and Support videos for some answers to questions that might come to your mind like:
How do I equalise an IDM?
Why IDM and not simply FFM?
Does it fog?
How do i clear it from water?
What if it leaks?
OA situation?
GOT QUESTIONS?
Check out the FAQ section, the Training and Support videos for some answers to questions that might come to your mind like:
How do I equalise an IDM?
Why IDM and not simply FFM?
Does it fog?
How do i clear it from water?
What if it leaks?
OA situation?