GSM MERCURY Dual Power Communication Unit
The GSM Mercury Dual Power is just like the GSM Mercury, the best underwater wireless communication device by OCEAN REEF, but this time instead of having 2 channels it has the option of having channel 1 at normal power and reduced power to ensure clearness of sound also in confined waters like pools or tanks. The unit is easily recognized thanks to a yellow sticker that reads "Dual Power".
This unit is made to fit only on our EXTENDER FRAME.
Key Features:
Two speakers with volume adjustment
One channel – 2 modes (normal power/reduced power)
It's foldable inside the mask. Now you don't need to assemble the comm unit and take it off the mask. Simply fold it close and pack the IDM.
Brand new rechargeable, changeable battery with an autonomy of approximately 30 hours. No need to purchase disposable batteries to throw away once they are done. No need to purchase batteries before a dive trip. Recharge with a standard micro USB cable from any power source you want.
Digital as the first ever unit we introduced in the market – the DC. This one adds clearer communication, with a higher volume AND 2 earphones for a stereo-like experience.
DAT (Digital Activation Transmission) – hands-free mode.
Compatible with all prior OCEAN REEF units and competitor units on same frequency.
Easy and solid new PTT button. Also includes the D-mic 2.0 which is now incredibly simple to swap out if needed. Button module doesn't create entanglement and can be operated via a yellow flat, sturdy button and easy lever. As intuitive as you would want it. New Blue Mic on all 2020 units replaces the new D-Mic and increases the clarity of communication significantly.
Voice menu that is clear and immediate to learn, matches perfectly the simplicity of the buttons.
3 level volume.
Additional information
| | |
| --- | --- |
| Color | Black |
| SKU | OR033155 |
| WARNINGS | For California Residents: this product can expose you to chemicals including BPA, which is known to the State of California to cause cancer, and Phtalates, which are known to the State of California to cause birth defects or other reproductive harm. For more information go to http://www.P65Warnings.ca.gov. |
| Compatibility | With all OCEAN REEF UW wireless units and competitor units with same channel. Can be assembled only on IDMs with an Extender Frame. |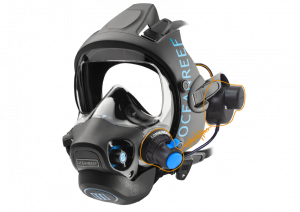 THE DAT - hands-free mode.
This automatic activation system is an exciting innovation in underwater communication exclusively from OCEAN REEF. The DAT™ system allows the option of transmitting in a hands-free mode rather than manual mode. A series of impulses are sent out, automatically keeping the unit in transmit mode for 30 seconds. After the initial 30 seconds of transmit mode, the unit will return to receive mode for 20 seconds accompanied by a series of impulses in a different tone from the first. DAT™ is useful when it is necessary to have both hands free while transmitting, making diving more comfortable and safer. Another benefit of the DAT™ system comes in the case of an emergency; by activating the DAT™ a series of impulses will emit every 30-20-30 seconds, which can be received at a great distance by search and rescue workers and other divers. DAT system is an Ocean Reef Exclusive.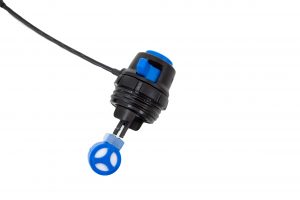 New Blue Mic on all 2020 units
The changes refer to the microphone and the push button panel.
The brand new version of GSM Mercury will be equipped with the Blue Mic, which replaces the new D-Mic and increases the clarity of communication significantly.
The Blue Mic externally looks like the D-Mic microphones assembled on GSM G.Divers, G.Power, Cube3, Alpha Pro uW units, but internally it packs its difference.
*Blue Mic can only be installed on GSM Mercury Units
Blue Mic is all blue in order to be recognized at first sight and not to be inadvertently mounted on non-Mercury units.
The latest version of Mercury Units feature blue lever and button instead of blue and yellow. The new generation will be easily recognized.
Retro-fitting!
It is possible to install the new Blue Mic on previous Mercury units equipped with New-D-mic, to do this you need a special adapter to be purchased separately, already available. The retro-fitting can only be performed by OCEAN REEF.
Adapter SKU OR003390
Price of Mercury Comm Units has not been changed.
Your Packaging
We are trying to reduce our single - use plastic as much as possible.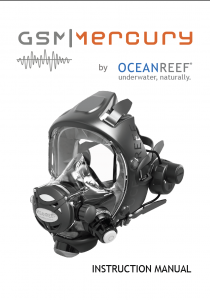 Product Manual
Download manual for the product.