AQUARIST – Plug & Play System for Municipal Aquariums & Zoos
The AQUARIST is a hardwired half / full-duplex underwater communication system for conversations between the surface (public) and one divers.
This communication unit is specifically designed to meet the needs of underwater live event/presentation with public / audience and to connect to a mixer / PA system.
It makes it possible for a diver in a tank / pool (ie-aquarium) with an IDM to communicate with an outside audience (extending the capability of an integrated loudspeaker of a typical surface unit) and viceversa for the audience to communicate back to the diver.
Description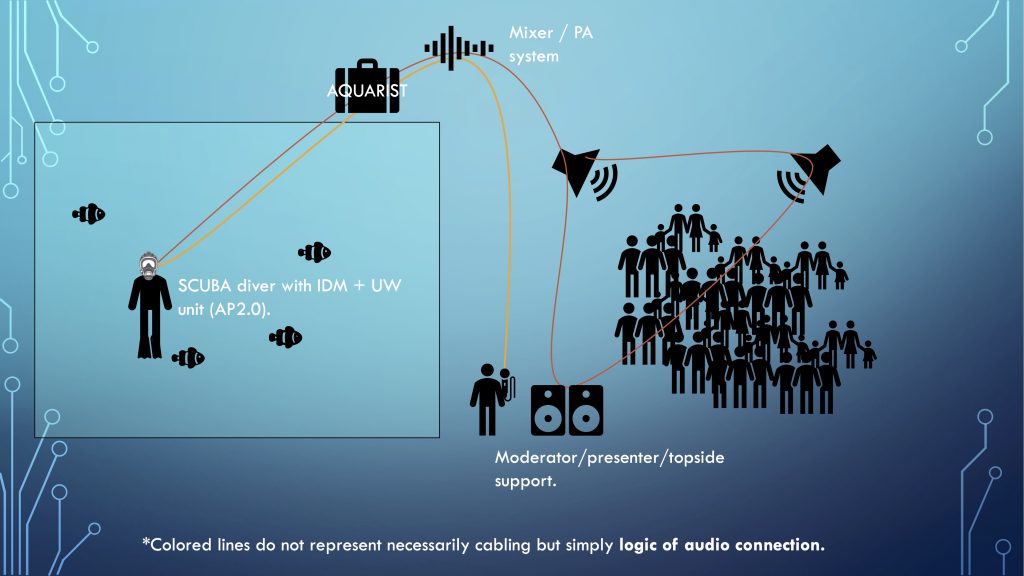 Aquarist Surface Unit features:
• The surface unit is powered from a normal wall power source (110v / 220v). Selection of correct voltage from user is super important.
• The surface unit receives the input audio of an underwater hardwired comm unit (Alpha pro 2.0
OR033160
). In case of unique distortions due to aquarium filters (rare), we can provide a specific filter connection that can be hooked on the
existing
unit / system the customer has.
• The surface unit has an audio out that can connect to a PA system/mixer. (canon XLR standard).
• The surface unit also has an audio in in order to receive signal from an outside microphone (ie: a presenter/moderator on surface that wants to talk with diver). (canon XLR standard). This might require an adaptor (ie : jack to male XLR, but this is a standard "issue" for any sound tech to "solve". This depends from their setup so it is not up to us to figure this part out (but we can provide assistance if needed).
•Includes 2x 2m/ 7ft XLR female to male cables.
•Weight: 1,8 Kg/ 4 Lbs (Surface unit); 0,3 Kg / 0.66 lbs (uw unit).
•Size 23x20x10 cm/ 9x8x4 inch
•110v power / 220v power. Both managed by same unit.
Inlcudes power cord.
Aquarist Surface Unit requires:
• OCEAN REEF IDM for diver.
• Alpha Pro 2.0 uw unit.
• 6-pin to surface DIN, yellow, roped cable. We offer various standard lengths or length can be customized to accommodate customer's need. Max 200m/600ft.