SPACE EXTENDER 100
Our newest Integrated Diving Mask system: the Space Extender, is the mask for the avid diver, advanced adventurer and diving professional. Cold water certified, balanced, on demand, integrated regulator. Polycarbonate visor (siloxane double coated for scratch resistance). Directional exhaust valve (4 positions). Dive / pre dive switch. Lifetime warranty! Includes the Extender Kit (frame + accessories). SAV (Surface Air Valve) included. This IDM has it all right off the bat. A fully customizable product that can serve all your needs and grow with your preferences thanks to a full line of accessories that can be integrated at any time with your mask. Specifically designed for long and/or deep dives – all those applications where high percentages of O2 are needed.
This mask features:
Viton O-rings
Christolube lubricant
Additional information
| | |
| --- | --- |
| size | S/M, M/L |
| color | Black |
| sku | S/M Black OR025100 , M/L Black OR025101 |
Description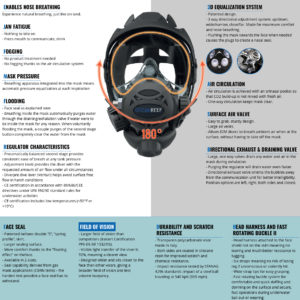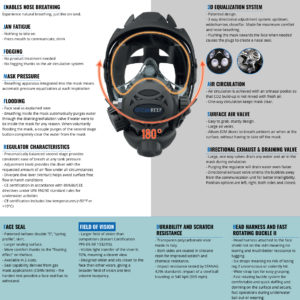 WHY DIVE AN IDM? CHARACTERISTICS AND BREAKDOWN OF BASIC FEATURES.
After you read the above, you might also want to check out:
Apertometer: competitor comparison with our field of view.
Visor treating: the importance of having scratch resistance inside and outside means that, while an outside scratch on underwater equipment is a minor problem (the water will fill the scratch and you won't be able to tell it's there), an inner scratch will be very visible, also once underwater. Thus, OCEAN REEF IDMs, the only Full Face Masks with coating on the market, highly reduce the possibility you will ruin and need to swap your visor.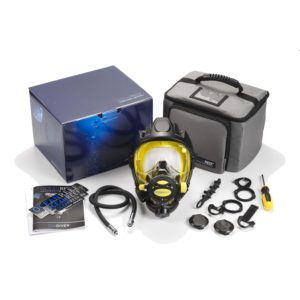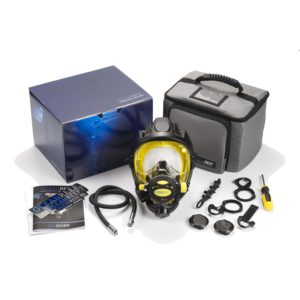 YOU GET PLENTY WITH YOUR SPACE EXTENDER
It comes with
A padded bag to protect and carry your IDM
Warranty Registration – Limited Lifetime Warranty with these babies!
The full Extender Kit (frame + accessories – frame is already mounted).
Equalisation plugs set. 3 sizes.
Screwdriver.
Standard Hose.
Stickers to show off you're an OCEAN REEF addicted.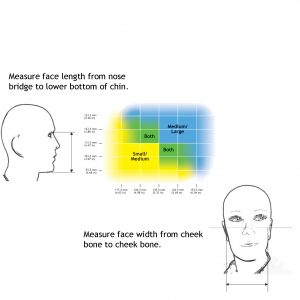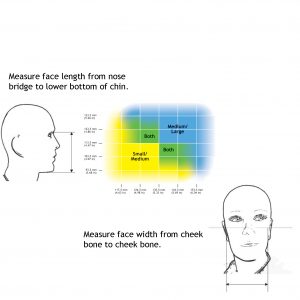 WHAT IS MY IDM PERFECT FIT?
The Neptune Space is available in two sizes, Small/Medium and Medium/Large.The sizing and measuring system were designed in accordance with the official measuring procedure used in the Los Alamos Scientific Laboratory Charts at the SBCCOM Mask Fit Facility-Aberdeen Proving Ground (Maryland, USA). Before purchasing a mask, the customer may use the calliper to take two simple face measurements. Using the Full Face Mask Size Recommendation Chart, he or she can evaluate the size category into which the measurements fall. There are three different size categories on the chart: Small/Medium, Both, & Medium/Large. If the measurements fall within the both category, then the diver should technically be able to wear either full face mask (M/L or S/M), and in that case should try on a mask to select the best fit. Please note that the chart boundaries fade. The fading areas represent less common face measurements. It is very likely that a mask will still fit comfortably even if measurements are located in these fading areas.If needed, OCEAN REEF has available to purchase a measuring kit.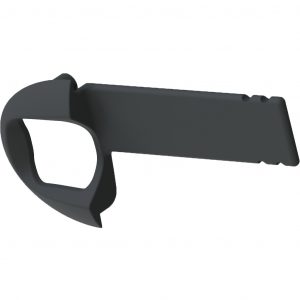 NEW NACS
Our older NACS was built with the possibility of breaking (for engagement reasons) in mind. Our customers (not everyone) didn't like the fact that it could break – they preferred something sturdier and more reliable. We created the Extender to solve this problem too. The concept is the same as the old NACS, but it's now a solid piece with the frame. this distributes the weight perfectly along the mask AND is comfortably located and rigid so that it does not flap on your ear when moving.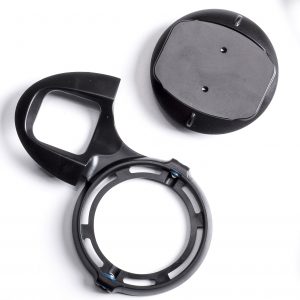 EXTENDER EARPHONE SUPPORTS
These earphone supports serve multiple purposes. First of all you have 2 of these. You can mount either one, or both together. When mounting both, you will have to renounce to the new NACS. These are the natural fittings for the earphones (MHA-2) of the GSM G-Power SL communication unit, once complete, this systems let's you enjoy a double speaker system, with volume control and extra range. Either having or not the GSM G-Power SL unit, the supports, once the plug is inserted, can serve as sport camera supports (such as the GoPro camera) – the shape is that of the sticker for this popular camera, and you can then figure out a 90° angle arm. Or, you can just drill holes in the plug, and mount whatever you want to them. The plugs rotate 30° vertically, which means, anything you attach to them will be able to do the same! for example – a light!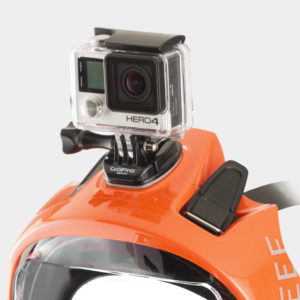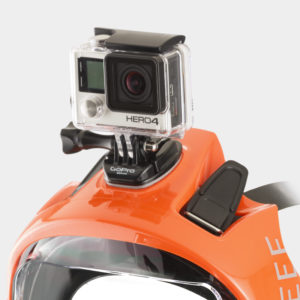 MOUNT YOUR GOPRO TO IT
The frame has a flat, trapezoid shape, specifically made for sport camera stickers, or to drill holes and fix lights to it.

GOT QUESTIONS?
Check out the FAQ section, the Training and Support videos for some answers to questions that might come to your mind like:
How do I equalise an IDM?
Why IDM and not simply FFM?
Does it fog?
How do i clear it from water?
What if it leaks?
OA situation?